PRITZKER HALL CAPITAL CAMPAIGN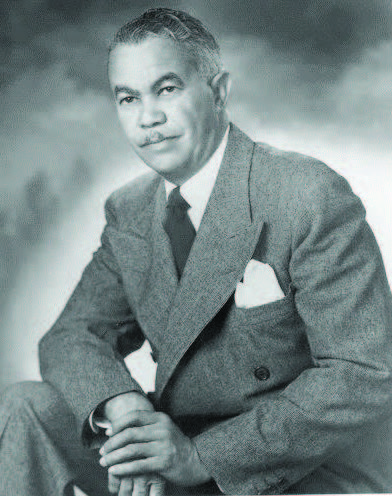 A BUILDING OF HISTORIC IMPORTANCE
The building was designed by celebrated Los Angeles architect Paul Revere Williams (1894-1980), who was tasked with creating a low-cost, minimalist-style tower building to house the psychology department.
Williams designed more than 2,500 buildings in Los Angeles and around the world over a career spanning five decades. He was the first African-American architect to become a member of the American Institute of Architects (AIA) in 1923, and in 1957 he was inducted as the AIA's first African-American fellow.
Against all odds, Williams forged a successful career designing innovative and graceful homes for wealthy L.A. socialites and celebrities like Frank Sinatra and Cary Grant. He also designed St. Jude's Hospital and the iconic Polo Lounge at the Beverly Hills Hotel. He served on many municipal, state and federal commissions and was active in political and social organizations. In 2017, Williams was posthumously awarded the AIA Gold Medal, the Institute's highest honor.
UCLA continues to honor his legacy by preserving and renovating this building and the other building he designed for the campus: the La Kretz Botany Building (renovation 2018).
A GIFT WITH LASTING IMPACT 
In January 2020, UCLA received a $30 million commitment from the Anthony and Jeanne Pritzker Family Foundation to support a major renovation of the building, which was renamed Pritzker Hall in recognition of the Pritzkers' generosity. 
Of the total amount, $10 million created the Anthony and Jeanne Pritzker Endowment for Excellence in the Department of Psychology, providing ongoing faculty and student support and funding infrastructure needs.
At the time, Tony Pritzker said, "We have tremendous confidence in UCLA, as a public university, to move society and the world forward, which is why we invest our time and resources there. We are pleased to build upon our foundation's earlier commitments to UCLA, while strengthening the extraordinary reputation that the psychology department's research and scholarship have rightfully earned."
Tony Pritzker served as co-chair of the Centennial Campaign for UCLA, which raised a record $5.49 billion. The psychology donation bookends the Anthony & Jeanne Pritzker Family Foundation's Centennial Campaign giving to the UCLA College; the foundation also gave $15 million to the UCLA Institute of the Environment and Sustainability in 2013, before the campaign's public launch. Its total giving to UCLA, which also includes major gifts to athletics, law, medicine, neuroscience, education, public policy and programs to support foster youth on campus, now stands at just under $100 million.
A NEW ERA FOR UCLA PSYCHOLOGY
With major philanthropic investment, Pritzker Hall will be transformed into a collaborative, modern learning and research environment, where UCLA Psychology faculty and students will accelerate translation of research into effective treatments for myriad brain and behavioral health challenges; revolutionize understanding of all facets of human behavior across the lifespan; and educate future generations of students.
Optimally equipped for 21st-century psychology teaching and research, the renovated building will feature:
A redesigned lobby and a lower façade that retains distinctive architectural features
A more prominent and welcoming entrance to improve visibility and accessibility, helping scientists to recruit and retain research participants
Remodeled classrooms with updated technologies and flexible furniture configuration to support active learning
Faculty and graduate workspaces redesigned to enhance collaboration and improve the quality and diversity of research
Conference spaces and seminar rooms with technology and flexible configurations to promote collaboration
Research suites and computing facilities reconfigured to achieve ideal research adjacencies and equipped with state-of-the-art equipment and technology
Improved public access to programs in depression and anxiety, healthy cognitive aging, substance abuse, adolescent emotional development, and health disparities reduction
Upgraded and expanded health psychology equipment facilities to support research in cancer, stress, mindfulness, social factors in immune function, reproductive issues, and diet and exercise
A welcoming space for a new undergraduate student advising center
For more information, please contact:
Olivia Lam, Executive Director of Development for Life Sciences at olam@support.ucla.edu